When you or a loved one are in pain it can be a confusing emotional experience for everyone involved. It's hard to know how to move forward—to heal, grow and feel whole again.
Here To There Therapy is a team of dedicated mental health professionals who provide high quality personalized care in a supportive, respectful, and culturally responsive environment. Working together and with other care providers, we offer integrated care for each member of the family.
We work collaboratively with children, teens, families, and individuals to overcome life's challenges in a nurturing, safe environment. We will help you move from where you are to where you want to be.
Together, we will identify your personal strengths, and use those strengths to help you achieve your mental health goals. We believe creating change in any one member of the family creates positive changes in the family as a whole.
Sometimes the hardest task is to ask for help. When you are ready, we are here to support you every step of the way from Here to There.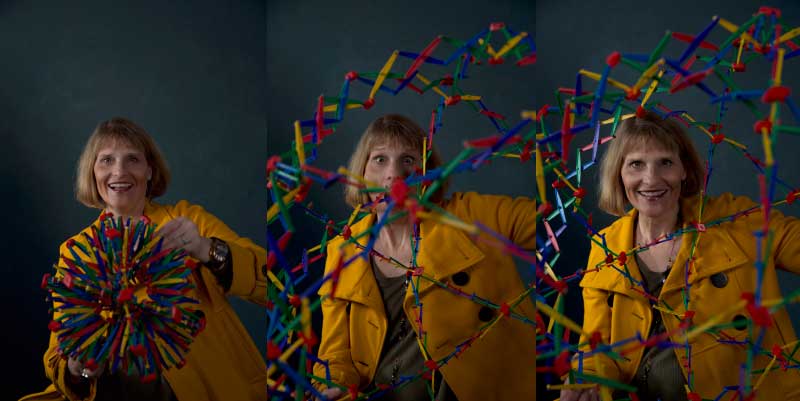 Carol Pendleton, MA, LMFT, LMHC, CMHS

Adult, Couple, and Family Therapist
(206) 355-8532  
Carol@HereToThereTherapy.com
As an adult, couple, and family therapist, I enjoy working with adults individually or in couple's therapy to help them work towards their life goals. I also enjoy working with children, teenagers, and their families to help them increase experiences of connection and trust. I primarily work from family systems, trauma focused, and strength-based perspectives.
I work closely with parents, offering functional behavior analyses, parenting strategies, and ongoing parenting support to assist in developing advanced parenting skills to address their children's behaviors. I provide children therapy within the family context.
I offer school advocacy services to help families access educational support and services such as IEP's and 504 Plans and to address bullying issues. I also help children who struggle with symptoms of ADHD to develop and strengthen executive functioning skills.
I provide couple's therapy primarily by helping couples understand and shift their relational patterns to increase individual responsibility and relational connection. As a Gottman Bringing Baby Home Educator, I enjoy working with couples as they transition to parenthood through birth, adoption, or by the creation of blended families.  Additionally, I work with separated/divorced couples to develop effective co-parenting relationships.
Education
2012 MA, Applied Psychology in Couple and Family Therapy
Antioch University, Seattle
Professional Credentials
Licensed Marriage Family Therapist (License #LC60510763)
Licensed Mental Health Counselor (License #LH60672449)
AAMFT Approved Supervisor
AAMFT Clinical Fellow
Perinatal Mental Health Specialist
Child Mental Health Specialist
Certified Somatic Transformation Practitioner
Lifespan Integration Therapist (level 1)
Emotionally Focused Couples Therapist
Certified Positive Discipline Parent Educator
Certified Prepare-Enrich Couple's Counselor
Gottman Bringing Baby Home Educator
Perinatal Mental Health Specialist
Adjunct Faculty, Antioch University, Seattle



Specialties
I completed advanced clinical training in Bowen Family Systems Couples Therapy, Gottman Method Couples therapy, Emotion-Focused Couples Therapy, and Trauma-Focused Cognitive Behavioral Therapy. I completed an intensive certification program in Somatic Transformation Therapy, which explores and treats the physiological and psychological effects of complex traumatic experiences.

Finances
In-network provider with Regence, Cigna, Premera and Kaiser PPO, First Choice
Out of network insurance rate: $130 per hour
Statements provided upon request for out of network insurance reimbursement
Sliding Fee Scale available based on need
Available via Telehealth
Urgent Appointments:
For existing clients, I make every effort to respond to requests for appointments or assistance within 24 hours, and to schedule urgent appointments within 48 hours. For potential new clients, expect to hear back from me within 4 business days.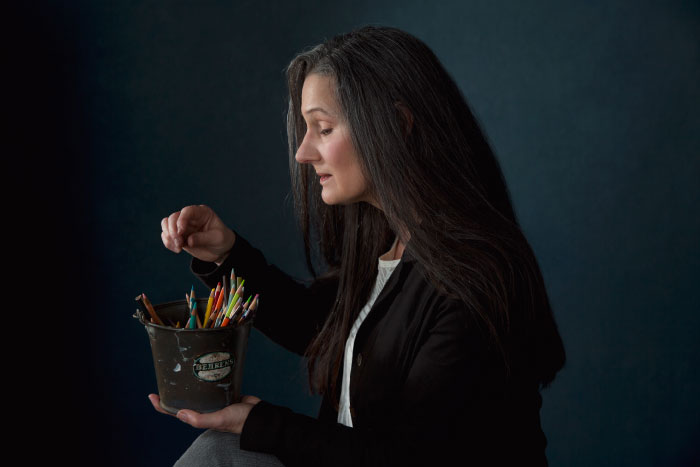 Linda Holt Ayriss, MA, LMFT, ATR

Child, Couple & Family Therapy / Art Therapy
Linda Holt Ayriss: (206) 714-0450
Linda@HereToThereTherapy.com
As a licensed marriage and family therapist and art therapist, I enjoy working with children, adolescents, couples and families in a collaborative process to explore concerns and challenges that have arisen in their lives.
I work from a strength-based, family oriented perspective. I utilize opportunities to reframe negative family dynamics and emphasize positive strengths to find the possibility of hope.
In addition to traditional therapy, sessions may also include art therapy, as I have often found this helpful when words alone may not be enough to express difficult thoughts and feelings. All ages and abilities can benefit from art therapy. As one elderly client described this experience, "This is not painting class, it's art for the mind." The process of creating art can be healing in itself. Creating art can become a pathway to self-discovery, identity, and increased self-esteem.

My experience includes helping children and families who struggle with anxiety, depression, ADHD, grief and loss, trauma, identity formation, relationship conflicts, and difficult life transitions. I also work closely with parents and schools to advocate for children and teens with educational, behavioral and emotional needs, such as IEP's and 504 plans. I have used art therapy to help with elders living with dementia to create significant gains in mood, memory, and cognition.

I believe in fostering a supportive connection between thoughts and feelings to create the possibilities for insight, hope and positive change.





Professional Credentials
Licensed Marriage and Family Therapist (License# LF60914004)
Art Therapist (License #17-202)
Emotionally Focused Couples Therapist
I co-authored and conducted a yearlong research study with using art therapy with elders: Creating a Pictorial Lifebook to evoke gerotranscendence in elderly individuals with dementia. This research was presented at the 9th Geneva Conference on Person-Centered Medicine: Integrated Care through the Life Course, Geneva University Hospital and World Health Organization.
Education
2016, MA in Couples and Family Therapy with Art Therapy

Antioch University, Seattle

Specialties
Art Therapy
Working with children, teens, and families
Elders: End of life and Alzheimer's
Finances
Rate: $120 per hour
In-network provider with Premera, Cigna, Aetna, First Choice
Statements provided upon request for out of network insurance reimbursement
Sliding Fee Scale available based on need
Available via Telehealth and some in-person sessions with social distancing

The new here for Here to There.
Due to COVID-19, Here to There Therapy has had to go from our office on Erickson Avenue in downtown Bainbridge Island to here, the screen you're looking at. We are available via Telehealth conferencing. And when the weather is nice, Linda is also offering some outdoor in-person appointments (with social distancing). We might have to be away from an office for a while, but you can rest assured, we'll always be here for you.
Carol Pendleton: (206) 355-8532 Carol@HereToThereTherapy.com
Linda Holt Ayriss: (206) 714-0450 Linda@HereToThereTherapy.com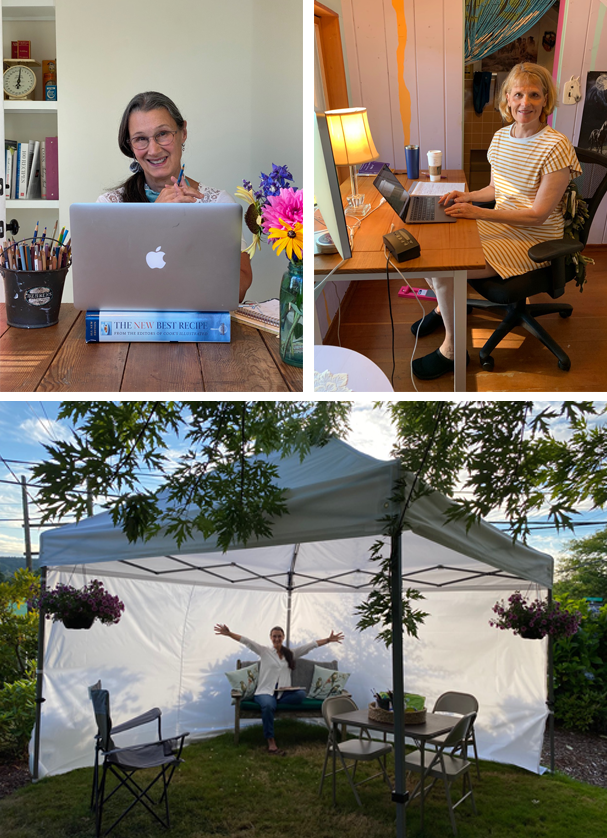 Emergency Resources.
Please note: If you are experiencing a mental health crisis or emergency, please engage in one or more of these resources:
Call the Crisis Clinic at

206-461-3222

, available 24/7
Text the Crisis Text Line, available 24/7; Text

HOME to 741741

Call Teen Link at

866-833-6546

, available 6-10 pm daily
Present to the nearest hospital emergency room (if you can drive safely)

Call 911
Bainbridge Island Resource Directory offers a helpful list of youth / family and senior resources in our community:
https://resourcedirectorybi.org.